As a digital agency owner, finding the right SaaS partner program can be a game-changer. Partnering with a top-notch provider not only expands your service offerings but also creates new opportunities to grow your business. However, with so many options out there, finding the right fit can get really overwhelming really fast. 
Fear not, we've got you covered! We've researched and compiled a list of the top 11 reseller programs offered by the best SaaS companies on the market, complete with a breakdown of their features and benefits.
Table Of Contents
So, let's dive in and discover the best SaaS reseller programs for your marketing agency!
11 best SaaS partner programs
1. GetResponse MAX partner program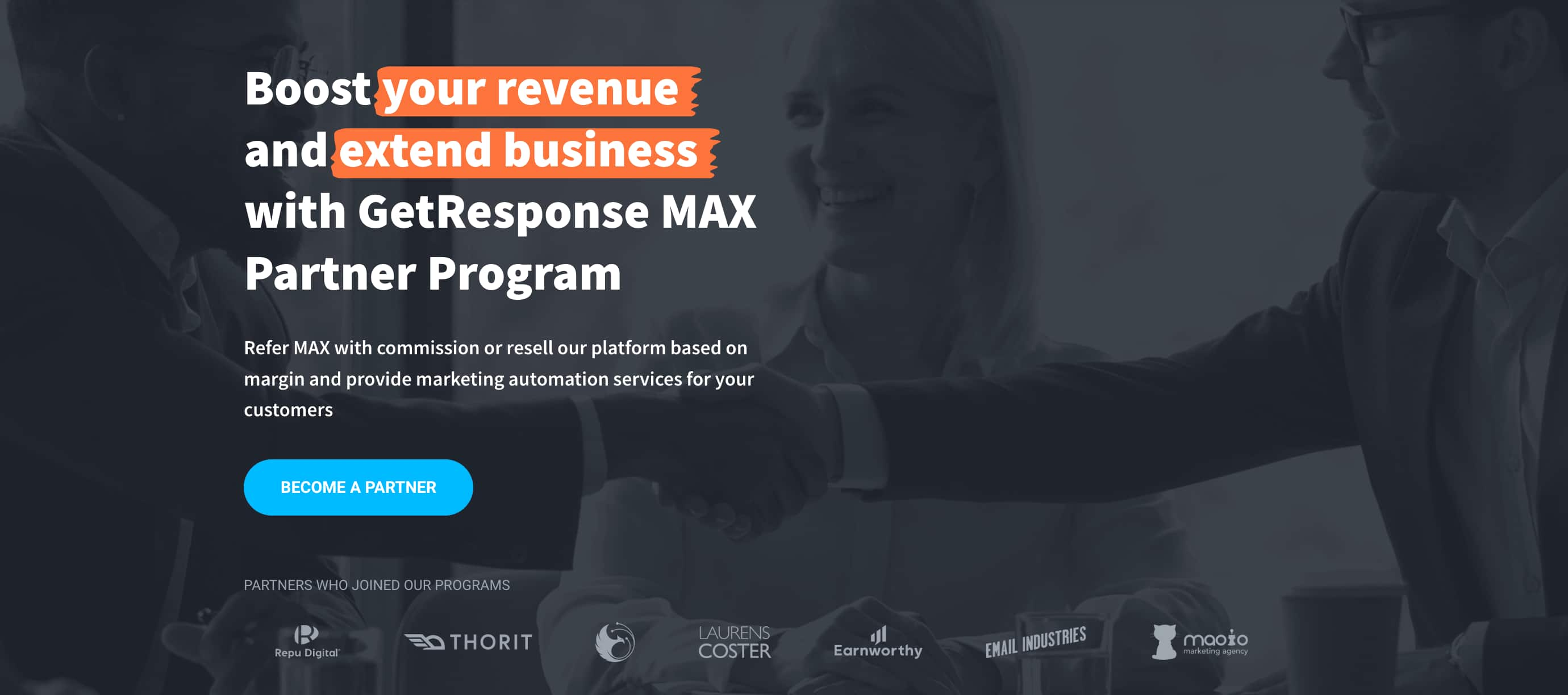 GetResponse MAX is a custom-priced email marketing automation software that takes care of your campaigns, builds workflows, optimizes with AI, and so much more! 
Our GetResponse MAX  Partner Program provides an excellent opportunity for digital agencies to expand their reach and maximize their effectiveness. 
Revenue sharing model: 
GetResponse MAX partners can earn up to a 50% commission on customers' lifetime value on a reseller plan. 
Why choose GetResponse MAX Partner Program: 
free training and extended partner certification program; 
joint marketing opportunities; 
free MAX2 account for the partner; 
2 co-financed events per year; 
dedicated partner and onboarding manager; 
3 annual partner meetings. 
Possible limitations: 
GetResponse MAX is a comprehensive custom solution designed for mid-sized and large enterprises. If most of your clients come from smaller organizations, you might want to opt-in for a less profound referral program, such as GetResponse Affiliate Program. 
2. HubSpot Solutions partner program for agencies
HubSpot is an all-in-one inbound marketing and sales software that empowers marketers to attract, engage, and delight customers.
The HubSpot's Solutions Partner Program is a game-changer for digital marketing agencies, providing you with a comprehensive suite of tools and resources to drive exceptional growth for your clients. By joining the dedicated HubSpot's Partner Program for marketing agencies – Solutions, you can leverage the platform's powerful solutions to optimize lead generation, nurture customer relationships, and achieve remarkable marketing success.
Revenue share: 
If you choose HubSpot's program for your SaaS partnership, you'll be earning on a percentage-based model, adding up to 20% of net revenue per each end user you refer.
Why choose HubSpot Solutions Partner Program: 
partners gain access to HubSpot Solutions partner directory
co-marketing opportunities and enablement resources
training and partner certification
dedicated account manager
a possibility to waive onboarding fees for your clients
Possible limitations: 
As is often the case with HubSpot digital products, this SaaS partner program doesn't come in cheap. Certified partners need to be ready to pay $400/month and a one-time onboarding fee that starts at $3000 to participate.
3. Adobe Solution Partner Program
As a leading provider of creative and marketing solutions, Adobe empowers marketers to create impactful campaigns and drive measurable results.
The Adobe Solution Partner Program provides digital marketing agencies with a unique opportunity to collaborate with Adobe and deliver exceptional digital experiences to their existing customers. By joining the Adobe Solution Partner Program, you can leverage Adobe's cutting-edge tools and expertise to transform your clients' digital presence, enhance customer engagement, and achieve remarkable marketing success.
Revenue sharing model: 
Not disclosed
Why choose Adobe Solution Partner Program: 
on-demand training and co-marketing resources
a limited number of certification exam vouchers to distribute for your clients + discounts on Adobe training and certifications
high-tier partners can use the Adobe trademark for SEO purposes
being featured on Partner Spotlight on Adobe's social media channel
integration partnerships with Microsoft are also available
Possible limitations: 
Adobe Solutions SaaS partnership comes with numerous strings attached and multiple annual requirements a potential partner needs to meet depending on the specific tier. Some of the requirements include upholding positive customer satisfaction ratings, paying the Solution partner program fee (goes as high as $25.000 for the Platinum level), or maintaining a certain minimum number of successful Adobe Experience Cloud customer deployments.
4. Smith Agency Reseller program
Smith.ai's chatbot solution enables businesses to automate their customer service and support operations, enhancing their efficiency and customer satisfaction – conversational marketing at its best!
The Smith.ai Reseller Program offers digital marketing agencies a unique opportunity to provide AI-powered chatbot services to their clients. With this SaaS partnership, you can expand your offer and help your clients optimize their support services and customer interactions with intelligent chatbot solutions.
Revenue sharing model: 
Smith.ai Reseller Program runs on a tiered commission structure based on the number of new paying clients and the duration of the partnership. Resellers can earn a fixed amount ranging from $60 to $90, along with an 8% commission, for each new paying client who subscribes to a live-staffed receptionist or chat plan in the first year. Resellers can then continue earning commissions at a rate of 4% for subsequent years, ensuring ongoing revenue from their client base.
Why choose Smith.AI Reseller Program: 
dedicated partner manager
custom pricing options for each client's budget
special discounts for each of your clients subscribed to the service
an all-in-one partner portal for managing and monitoring your scaling
Possible limitations: 
Smith.ai can be an invaluable technology partner for agencies whos clients depend on its main product – AI-powered chatbots. These can be crucial for your customer success, but if your clients are after a broader range of digital marketing services from their SaaS partnerships, it may not be the best choice.
5. Zendesk reseller and referral partner programs
Zendesk is a powerful CRM and support software that helps marketers deliver exceptional customer experiences.
The Zendesk Partner Program offers its digital marketing agency partners the opportunity to provide their clients with industry-leading customer service solutions. With it, you can benefit from enhancing your overall customer satisfaction and loyalty.
Revenue sharing model: 
Both programs offer percentage-based revenue shares based on the partners' tier and plans advertised to the agency clients.
Why choose Zendesk Partner Programs: 
priority support access for premium partners
enhanced technical support
sponsored demo accounts
dedicated partner manager
Possible limitations: 
The disparity between different agency partners' tiers is quite broad and the exact revenue share you can expect from the partnership is not specified. You need to pass certification in order to be able fully leverage the partner ecosystem offered by Zendesk.
6. Semrush Agency Partners program
Semrush is a comprehensive digital marketing software company that equips marketers with advanced SEO, content marketing, and advertising tools.
The Semrush Partner Program is invaluable for digital marketing agencies as it allows them to leverage Semrush's cutting-edge solutions to optimize their clients' digital strategies, drive organic traffic, and achieve outstanding results. You will oftentimes see Semrush on the list for the best SaaS partner programs and for a good reason, too!
Revenue sharing model: 
Not disclosed, but likely percentage-based.
Why choose Semrush Agency Partner Program: 
partners gain access to PR and marketing materials for their business
partner initiatives dedicated to lead generation
being featured on Semrush's partner portal
access to the Agency Growth Kit to help you scale your business
Possible limitations: 
Semrush offers a variety of programs and different tiers, ranging from affiliate partner programs for small businesses, technical partners interested in integration partnerships specifically, or regional resellers programs. Since Agency Partner Program is the most advanced model, it is also the most costly to maintain. So, mainly companies with larger budgets tend to opt-in for this one.
7. Klaviyo partner agency platform
Klaviyo is a leading email marketing and automation platform that empowers marketers to create personalized and targeted campaigns.
The Klaviyo Partner Program is specifically designed for digital marketing agencies, enabling them to offer their clients state-of-the-art email marketing solutions, drive engagement, and achieve higher conversion rates.
Revenue sharing model: 
As Klaviyo's referral partner, you can earn up to 20% revenue share per account. Since Klaviyo's software pricing is quite steep, it adds up to impressive profits quickly.
Why choose Klaviyo Partner Program: 
Increasing revenue share – the longer you stay with this SaaS partner program, the more profits you can earn
ongoing customer support across a dedicated Slack community, sales training, and strategic partnership guidance for new clients' onboarding
dedicated channel account manager
Possible limitations: 
While a highly successful SaaS partner program, Klaviyo doesn't differentiate between affiliate and referral partners, integration partners, or agencies. As a result, the offer may be a little too universal for some and difficult to customize for the needs of your clients.
8. Vena Solutions Implementation Partners program
If you're after the best SaaS partner programs, you can't miss on Vena Solutions. Vena Solutions is a leading provider of cloud-based FP&A software that empowers businesses to streamline their financial processes, improve decision-making, and drive growth.
Their partner program provides digital marketing agencies with a unique opportunity to collaborate with the tech company and enhance your clients' ambition with industry-leading financial planning and analysis solutions.
Revenue sharing model: 
As oftentimes the case with enterprise-level SaaS partner programs, the potential revenue share is not disclosed prior to subscription.
Why choose Vena Solutions Implementation Partners Program: 
promote pre-configured solutions perfect for agencies and consulting firms
priority placement on the website and marketplace
access to sales enablement materials and co-marketing resources
a dedicated space for existing partners
Possible limitations: 
The niche specialization of Vena Solutions is quite rare which is why it won't work for all agencies. It also doesn't feature extensive marketing automation options. However, if you're looking for dedicated tech partners to boost your clients' representation – this might be a good fit.
9. Hotjar partner program
Hotjar is a leading all-in-one analytics and feedback platform that helps businesses understand and optimize their users' experiences on their websites and mobile apps.
The Hotjar Partner Program offers its SaaS partners an exciting opportunity to collaborate with their platform and gain access to powerful analytics solutions. By joining the Hotjar Partner Program, you can enhance your service offerings and help your clients gain valuable insights into user behavior, drive conversion rate optimization, and deliver exceptional user experiences.
Revenue sharing model: 
As with most strategic partnerships. the Hotjar Partner Program is based on a percentage of revenue share. As a partner, you have the opportunity to earn up to 25% as long as your referral maintains a paid plan with the solution.
Why choose Hotjar Partner Program: 
Hotjar offers free platform training to all its existing partners
Being part of the partner ecosystem allows you to participate in multiple co-marketing initiatives
Hotjar's partners are the first to try their newest features and product updates
Possible limitations: 
Hotjar offers one of the simplest and the most transparent SaaS partner programs on the market, which is why it will likely apply to large enterprises and solo affiliates alike. However, you can expect large payouts only once your clients subscribe to a multiple years plan, which is oftentimes not the commitment a company cooperating with an agency is ready to take on.
10. Salesforce partner program
Salesforce is a renowned leader in CRM software and a reliable SaaS partner, empowering businesses to build meaningful customer relationships and drive growth.
The Salesforce Consulting Partner Program comes with a prestigious opportunity to provide your clients with top-tier consulting and implementation services for the Salesforce platform. As a Salesforce Consulting Partner, you can help your clients leverage the full potential of Salesforce for streamlined operations, enhanced customer engagement, and increased business success.
Revenue sharing model: 
The revenue sharing model for the Salesforce Partner Program is based on a percentage of net revenue. As an ISV partner, you will share 25% of your net revenue with Salesforce. This means that once you start generating revenue and report it, Salesforce will participate in revenue sharing, fostering a mutually beneficial partnership between the ISV partner and Salesforce.
Why choose Salesforce Partner Program: 
Salesforce is a recognized SaaS company dedicated to high-tier marketing automation, sales enablement, and CRM processes that are crucial for most digital marketers
You gain access to Partner Learning Camp dedicated to improving your sales process and customer success
Marketing and sales enablement materials are also available to all SaaS partners
Possible limitations: 
Signing up for the Salesforce partner program is a little more challenging as it is with other popular SaaS companies open to partnerships. Partially, it is complicated because of the platform's AppExchange pricing and monetization approach that requires all partners to purchase additional licenses.
11. ShoppingGives partner program
ShoppingGives is a revolutionary platform that enables businesses to effortlessly donate a portion of their sales to charitable causes. It is particularly popular with agencies the majority of whose clients come from ecommerce.
The ShoppingGives Partner Program allows marketers to make a positive social impact through their clients' online shopping experiences. It's an exciting opportunity to align your clients' brand with social responsibility, enhance customer loyalty, and drive meaningful change in the world while also earning some commission in the process.
Revenue sharing model: 
As a ShoppingGives partner, you can earn 10-15% of the revenue share. Simple as that.
Why choose ShoppingGives Partner Program: 
Dedicated agency partner training allows you to improve your clients' experience with the platform and boost their ecommerce stores' impact
You get access to analytical insights on both yours and your clients' performance within the ShoppingGives partner ecosystem
Receive coaching, materials, and strategic partnerships on how to educate and attract more clients
Possible limitations: 
As both the solution and its partner portal are dedicated to ecommerce vendors, your agency may not be able to benefit from it fully unless you also focus on this specific niche.
How to choose the best SaaS partner program for an agency?
Step 1: Verify your business needs and goals
Before choosing a SaaS partner program, it's essential to assess your business's needs and goals. Determine which services you're interested in offering and how they align with your overall business strategy. Consider which types of clients you serve and which products or services they might be interested in. By analyzing your business needs and goals, you can identify which SaaS partner programs are most suitable and align best with your objectives.
Step 2: Assess the Profit-Sharing Model
Evaluate the profit-sharing model offered by the SaaS partner program. Consider the commission structure and how it aligns with your business objectives. Look for partner programs that offer competitive commission rates, and ensure that the commission is based on customer lifetime value. This means you'll earn a percentage of the revenue generated by the customer for as long as they continue to use the service. By assessing the profit-sharing model, you can determine which SaaS partner programs offer the best potential for revenue growth.
Step 3: Consider Value and Trust
Partner with a SaaS provider that values your contributions and offers reliable service. Look for providers with a proven track record of success and positive customer reviews. Choose partner programs that offer value-added services, such as marketing content and ongoing support, to help you and your clients maximize the value of the service. By partnering with a trusted provider, you can ensure that you offer the best possible service to your clients and enhance your reputation in the industry.
Step 4: Look for Co-Marketing Opportunities
Partner programs that offer co-marketing opportunities can help you save time and resources while expanding your reach. Look for programs that offer marketing support, such as email templates, banners, and landing pages, to help you generate more leads and grow your business. Additionally, seek programs that encourage joint webinars, reports, and eBooks to help you create valuable content and attract more clients.
Step 5: Ensure Transparent Communication and Technical Support
Transparent communication and dedicated technical support are essential when partnering with a SaaS provider. Ensure that the partner program offers dedicated support for product onboarding and any technical knowledge required. This will ensure a seamless integration of the new service into your business operations and minimize potential roadblocks. Also, look for programs with responsive support teams that can address your questions and concerns promptly, ensuring a smooth partnership experience.
Step 6: Access to Training and Certification Programs
Select a SaaS provider that supports your business with ongoing training and certification programs. This will enable your team to stay up-to-date with the latest industry trends, best practices, and product developments, ensuring optimal service for your clients. Certification courses can also help your business gain credibility in the eyes of potential clients, demonstrating your expertise and commitment to providing the best possible service.
Conclusion
By following the 6 steps outlined above, you can make an informed decision about which SaaS partner program is the best fit for your business. After all, there are lots of SaaS partner programs offered by renowned online businesses out there and nothing is stopping you from joining more than one.
For example, you can provide your ecommerce customers with a holistic experience by leveraging GetResponse MAX's marketing automation suite, Hotjar's advanced analytics solution, and ShoppingGives' social iniative.
Sky is the limit! You simply need to be mindful when selecting which solutions to partner up with, as it is your reputation as an agency that will be at stake.


Source link
#viral #digital #creators #doral #SaaS #partner #programs #digital #agencies