OK, you get it. Artificial intelligence is kind of a big deal. It's a huge buzzword in the marketing community, with people talking daily about how it'll change the world. And you can't throw a rock without hitting a company with AI in the name these days.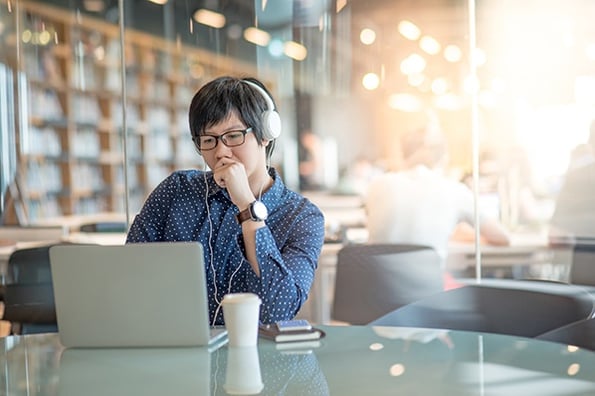 But what about real-world uses for AI? How can marketers begin to use AI to solve actual problems they have? All the speculation and theory are interesting. But at the end of the day, marketers have KPIs and business goals to meet.
Turns out, there are AI tools that can help you get more readers in several different ways, starting now. Today, we'll cover which tools can help you grow your blog. But first, let's explore the benefits of using AI.
The Benefits of Using AI to Grow Your Blog
You want to get more people to read your blog posts. More people reading means more opportunities to convert those readers into prospects.
More prospects mean more opportunities to sell. More sales equal happier executives — which in turn means a happier marketing team.
AI can help you grow your readership so you can keep the engine running. We'll explore how below.
1. Write better posts.
Better posts equal more engaged readers. Period. But it's not always easy to improve your writing. AI is here to help.
AI tools can help you check for common spelling and grammar mistakes. Additionally, these tools can help you convey the right tone. The result is writing that captures attention.
2. Blog about what people want to read.
You can write the world's best post, but it doesn't matter if it's on a topic your audience doesn't care about. How do you find compelling and popular blog topics?
There are a few AI-powered tools that can help with this, too. AI content assistants can help suggests topics and brainstorm outlines for posts. Further, you can use AI-powered SEO tools to help you find opportunities where you can rank highly on search engines.
3. Engage readers more.
Your existing readers may love your content. But how often are they consuming more than one post per session? Are they served fresh content before they leave your site? Most importantly, are they served additional content they actually care about?
Personalization is key to engaging readers and keeping them coming back for more. It's a scalable way to make sure every blog reader stays on-site longer.
4. Find more readers for your blog.
Aside from creating great content, how do you find more readers? One way is by going to where they congregate online. AI tools can help you pinpoint potential clients and provide you with information about their online gathering spaces.
From there, you can make sure your blog appears in the right places to gain traction.
5. Scale your blog and create more posts.
The more content you can publish, the more eyeballs you'll get on your blog. This requires you to scale blogging, which can be a challenge. The initial draft of a blog is typically time-consuming. Just the research phase can take around four hours for most writers.
Generative AI can create both outlines for your blog post and the text itself. This allows you to focus your internal writers on more complex stories or on editing the AI's output.
6. Optimize your content.
HubSpot's SEO tool uses AI to suggest search optimizations for your blog content, giving you site recommendations ranked by priority and impact. Hubspot's SEO Marketing Software does the heavy lifting of SEO research for you by giving you content topics that Google users regularly search for.
By optimizing your blog, you can potentially move onto Google's first page for any given set of keywords.
7. Create royalty-free blog images.
No blog is complete without at least one image. However, stock images blur together, and you may not have the artistic ability (or time) to make beautiful images from scratch. With AI, all you need to do is write a prompt. From there, the algorithm can design the image for you.
Now that we've explored how AI can help you level up your blog, let's discuss the specific tools that can help you grow.
12 Essential AI Tools for Bloggers
HubSpot's content assistant tools can help write copy fast. The assistant uses generative AI to help write the text for blog posts, landing pages, newsletters, and more.
Not ready to have AI do all the writing? The content assistant tool can also generate blog post ideas and outlines for your work. You can still write the bulk of your text yourself, but you'll always have a clear plan to follow.
Remember: Artificial Intelligence can't fully replace the entire job of a content writer, but by creating the first draft, your writers can focus their energy on other projects such as web content, SEO, internal needs such as sales collateral or product needs, and more.
Price: Free.
Best for: Writing blog posts.
What we love: Your blog post needs to target the right keywords to gain traction. Content assistant can help you optimize your text for SEO so you can build your audience.
Tools like ChatGPT can help you with the content-writing aspect of a blog. This AI tool uses natural language processing (NLP) to help craft new written content from scratch. You can ask the interface to gather research for your writing or generate the text itself.
However, make sure you're aware of ChatGPT's limitations. For example, its AI references content published in and before 2021. If you're writing about something current, this tool will be out-of-date.
Price: ChatGPT is currently free. Plus plans start at $20 per month.
Best for: Writing blog posts.
Pro tip: ChatGPT requires very specific instructions. You'll need to practice writing the best prompts to make the most of this tool.
Let's say you're publishing a report or blog post that requires data from your CRM. ChatSpot is here to help. This tool integrates with your HubSpot CRM, so you can gather and interact with your data entirely with chat-based commands.
ChatSpot also provides a long-form content-writing feature that can generate draft blog posts to streamline your content creation process.
Price: Free.
Best for: Writing and researching blog posts.
What we love: If asked the right questions, ChatSpot can help you research the blog post topics you want to cover.
Uberflip uses AI to streamline the content creation process and enhance the reader experience. The tool catalogs the topics you've written about. Then, it recommends content to visitors based on what they've already read on your site.
By leveraging Uberflip's personalization feature, you can tailor your blog content to different audience segments, ensuring that each reader receives content that meets their needs.
Price: Pricing is available upon request.
Best for: Promoting blog posts.
What we love: Uberflip can help you create a centralized content library that showcases all your blog posts. This ensures that readers can easily navigate across your content.
5. Crayon
Crayon uses AI to give you intelligence on what competitors are doing online. The tool analyzes over 100 different types of data online from seven million sources. It tracks changes to competitor websites over time and uses AI to display the most meaningful insights from competitor activity.
These insights reveal much about a company's messaging and content strategy. That gives smart marketers lots of material for their own blogging.
You might also combine Crayon with HubSpot's Content Strategy tool. The Content Strategy tool uses AI to help marketers discover new content ideas. You'll get suggestions on topic clusters to pursue. You can also determine which opportunities are worth spending time writing about.
Price: Pricing is available upon request.
Best for: Monitoring competitors.
What we love: You can determine what topics matter most to audiences and where gaps exist to fill with your own content.
Pathmatics uses AI to show you digital advertising information for hundreds of brands. You can see how much a brand has spent on ads and which campaigns its run.
Most importantly, you can see where the brand advertisers are. This information can tell you where audiences like yours hang out online.
For instance, you could use Pathmatics to see where your competitors advertise most. From there, pick top industry sites that align with your blogging. Voila! You have some good ideas on who to pitch for your guest posting strategy.
Price: Pricing is available upon request.
Best for: Monitoring competitors.
What we love: With Pathmatics, you can see side-by-side competitor comparisons and channel views.
BrightEdge's suite of AI-first products makes content production a lot easier. On one hand, the company's solution automates production tasks. Say goodbye to tedious things like adding header tags, cross-linking, and optimization.
On the other, BrightEdge will tell you which types of content may perform well for your brand. That saves you a ton of time and increases confidence in the ROI of blogging efforts. BrightEdge can also recommend ways to rank your content and keep readers engaged.
Price: Pricing is available upon request.
Best for: Building your strategy.
What we love: BrightEdge can help you find gaps in your content library, so you can cover all your bases and become a one-stop-shop for readers.
You can leverage tools like Surfer to get a comprehensive content score, so you can easily determine how optimized any given piece of content is. This AI tool can also generate catchy H1s and H2s, giving your content writers a general structure to go off of.
Surfer also gives you a plagiarism checker. Google will penalize any content that it identifies as being stolen from other websites.
Even if you don't use the other features of Surfer, this is a great Chrome extension for ensuring you don't accidentally copy anyone's writing.
Price: Pricing is available upon request.
Best for: Optimizing content.
What we love: Surfer analyzes your competitor's content and suggests improvements to make your content more relevant. With Surfer's help, you can find target keywords, meta tags, and more.
Image Source
If you're an enterprise looking to scale your blogging, Acrolinx is worth a look. Acrolinx has AI read and analyze your content. Then, AI uses what it learns to make sure everyone follows brand standards and guidelines.
No matter how many writers you have across the world, they'll stay on the same page. All posts are on-brand and follow your style criteria exactly. That frees up a lot of time normally spent tweaking, formatting, and editing for consistency.
Price: Pricing is available upon request.
Best for: Editing content.
What we love: Acrolinx does the tedious task of enforcing style consistency so you can spend more time on high-quality blogging.
Grammarly is a tool that uses AI to recommend better writing. It can tell you your grammar mistakes and how to fix them. It can also offer powerful recommendations to improve your tone and style.
For an individual blog writer, it's a critical tool to stay at the top of your game. For teams, it can transform the quality and effectiveness of your entire blog.
Price: A free version is available. Paid plans start at $12 a month.
Best for: Editing content.
What we love: Grammarly offers tone suggestions so you can make sure your writing matches your intended message.
Using an AI image tool like Fotor can help you save money on stock images while generating exactly what you want for your blog. Fotor can create art in different styles such as 3D, realistic, oil painting, cartoon, illustration, photography, and more.
New users can get up to ten pictures a day, making Fotor free to use on a small scale.
Price: Paid plans start at $4.99 monthly.
Best for: Image generation.
What we love: Fotor's AI algorithm can analyze the user's design history and offer suggestions, helping users make design choices that match their style and preferences.
Night Cafe's AI can analyze vast amounts of image data to understand object placement, colors, and other visual elements. This understanding enables its AI to generate new images based on this existing data.
Night Cafe uses a credit system for image generation, meaning you can participate in the online community to get credits or purchase them.
Price: A 100-credit-a-month plan costs $4.79.
Best for: Image generation.
Pro tip: Don't forget to add valuable image alt text to any image you add to your blog, so your blog can be fully optimized.
Getting Started
AI in marketing is growing fast. Leveraging new tools can help you increase your blog output, find the right audience, and optimize content for search.
Fail to make the most of the opportunity, and your site will fall behind. So start experimenting with AI tools to see what works best for your team.


Source link
#viral #digital #creators #doral #Tools #Grow #Blog